Inspired by Sakura Season: Nobu Hotel
Posted by Duncan McCabe on 8th May 2022
Every year, as winter turns to spring, millions of people flock to Japan to see the Sakura or Cherry Blossoms. The nation is awash in pink for a few weeks as the delicate flowers bloom. The Sakura season is a time of grand celebration in Japan, and it has become an increasingly popular tourist destination. During this time, people often hold picnics and parties beneath the trees with the flowers are used to decorate homes and businesses. Cherry Blossom season is a time of celebration and joy, and it is also a reminder of the transient nature of life. The Cherry Blossoms only bloom for a short time, but they are stunning while they are in bloom. Their brief blooming period is seen as a metaphor for the ephemeral nature of human existence. The sakura season is a time to appreciate the beauty of life and cherish our time with our loved ones.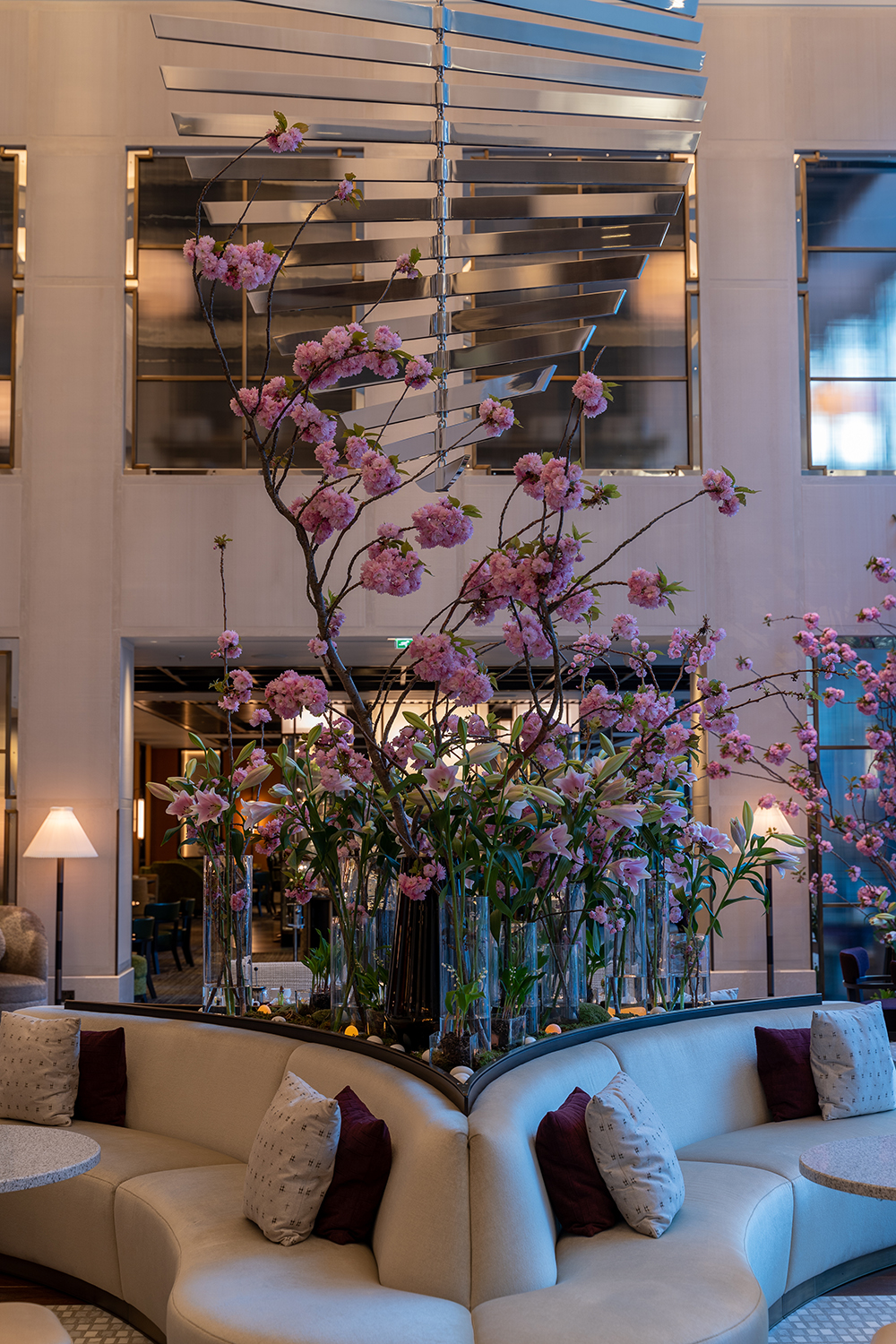 Inspired by the season and to make the most of the most magnificent British grown Blossom, the Moyses Stevens contracts team brought a flavour of Sakura to the lobby of the Nobu Hotel. The space was transformed with glorious pink fluffy branches, with the most tallest branches approaching 3 meters in height.

Moyses Stevens Contract Manager Sophie Baptiste shares her passion for Cherry Blossom.
The season for many flowers is extended over the years, and many flower varieties are available for a more extended period thanks to better cultivation methods.Cherry Blossom isn't one of those flowers. Commercially, the season is relatively short for florists, and the timing depends on the weather. This makes it all the more special. We have great suppliers at New Covent Garden Market who will advise when the Blossom will be available, but there are no guarantees when you buy it as it will only be harvested when it is ready.

When it first arrives from the market, it doesn't show much colour as it takes a few days for the flowers to bloom fully. Blossom can be temperamental and will only open to its own timetable! Thankfully our Blossom for Nobu opened beautifully and transformed, celebrating this extraordinary time of year.'
Discover Moyses Stevens Weekly Flowers
Moyses Stevens has been celebrating with flowers for over 145 years, dressing many of London's most beautiful locations with flowers. Our talented contracts team are dedicated to creating impactful designs that impress every week and are the perfect welcoming statement in hotels, bars, restaurants and offices.
For more information about contract flowers, email info@moysesflowers.co.uk