New Classes 2022: Learn the Essential & Advanced Skills of Floristry
Posted by Duncan McCabe on 21st Oct 2021
We are delighted to be offering intensive week-long classes from January 2022, designed to give a comprehensive introduction to the basics and more technical skills of floristry. The courses will provide a week of practical projects with a carefully edited collection of designs specific to the flower industry today.
In a world where a range of skills is advantageous for many creative professions, our courses are ideal for stylists, photographers, interior designers, and those interested in working in the flower industry.
The world of flower design is a rich and diverse art form. And it's not all Flower arranging! You will be taught by experienced industry-leading professionals. Our week-long course will teach you the essential and advanced skills you need to know about floristry. Learn the basics of flower care, how to style your own arrangements and create stunning floral designs for gifts, events, corporate and weddings. Moyses Stevens is a trusted brand that has been around for long enough to have a comprehensive understanding of the intricacies of this incredible industry!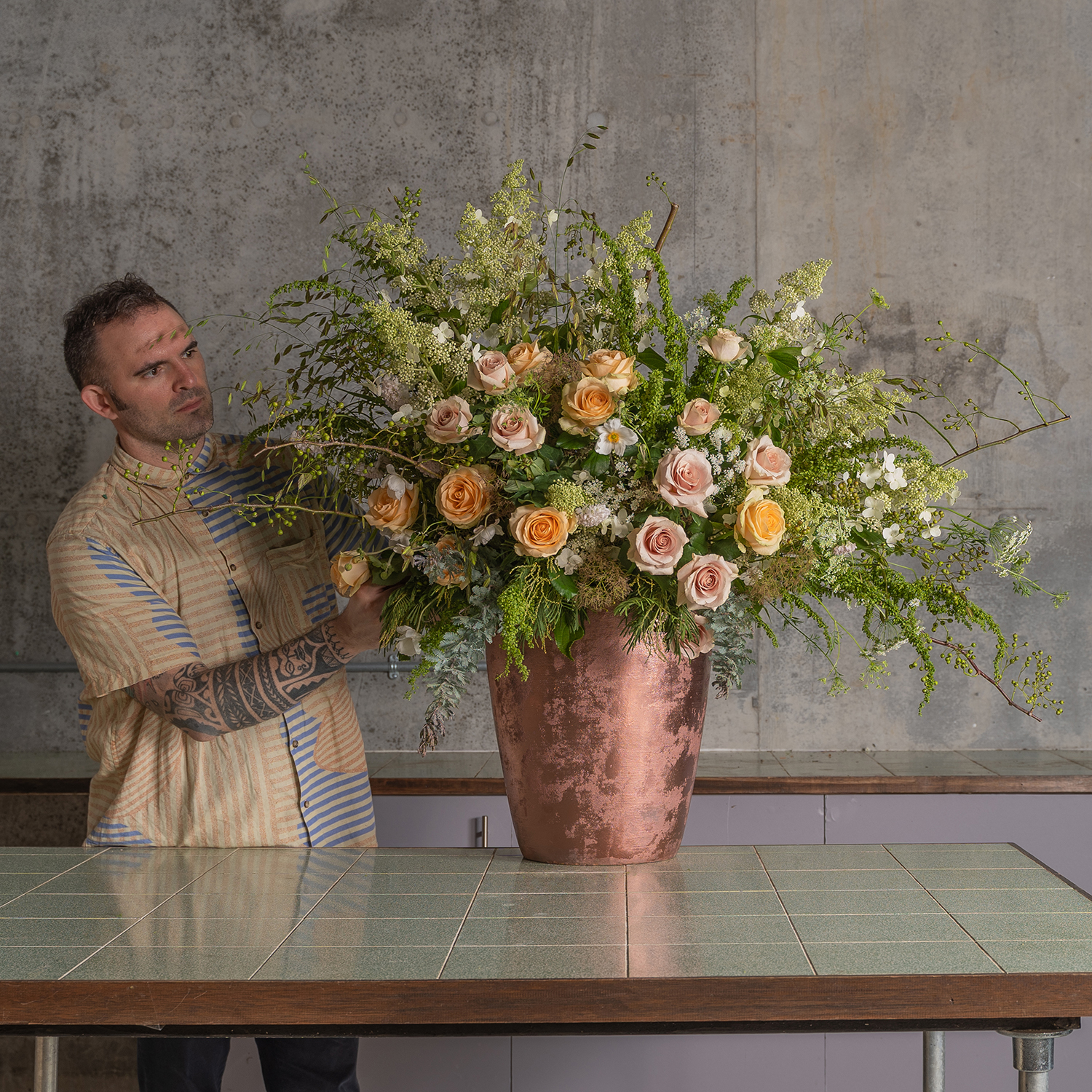 Essential Floristry | One Week Cost £1,495

Monday-Friday 10am-4pm with one hour break
Learn the essentials of floristry from the masters at Moyses Stevens. Perfect for aspiring florists and flower enthusiasts, this week-long course taught at our Flower School is located in the recently regenerated Battersea Power Station. Be prepared to be wholly immersed in a world of flowers and learn multiple aspects of professional floristry. Each class will start with an in-depth introduction from your skilled tutor regarding the project you will be completing that day. Then you will then taught the basics of flower conditioning and the different types of flowers used for each project. The seasonal availability and the sustainable aspects of the mechanics you'll be using. You will be working with a mix of elegant fresh flowers and rustic-inspired dried flowers to create each masterpiece. During your 5 days, you'll be introduced to the classic Moyses Stevens style bouquet, the wonders of event and corporate designs, the art of wedding floristry, the beauty of seasonal and sustainable wreaths before finally constructing an extravagant large-scale design under the supervision of the talented florists at the school. So, if you're a lover of flowers or looking to start your career, book your slot today. All tools, materials and flowers will be provided to you in class.
What to expect from Essential Floristry
A fast track introduction to flower care, buying

An introduction to many of the most commonly requested designs

Practical projects incorporating all the essential skills

Step by step guidance

Next-step advice and support
Who is Essential Floristry Aimed at?
Students with little or no experience

Students who enjoy decorating their homes with flowers

Students interested in working in the industry

Stylists, photographers, interior designers and other creatives who use flowers as part of their work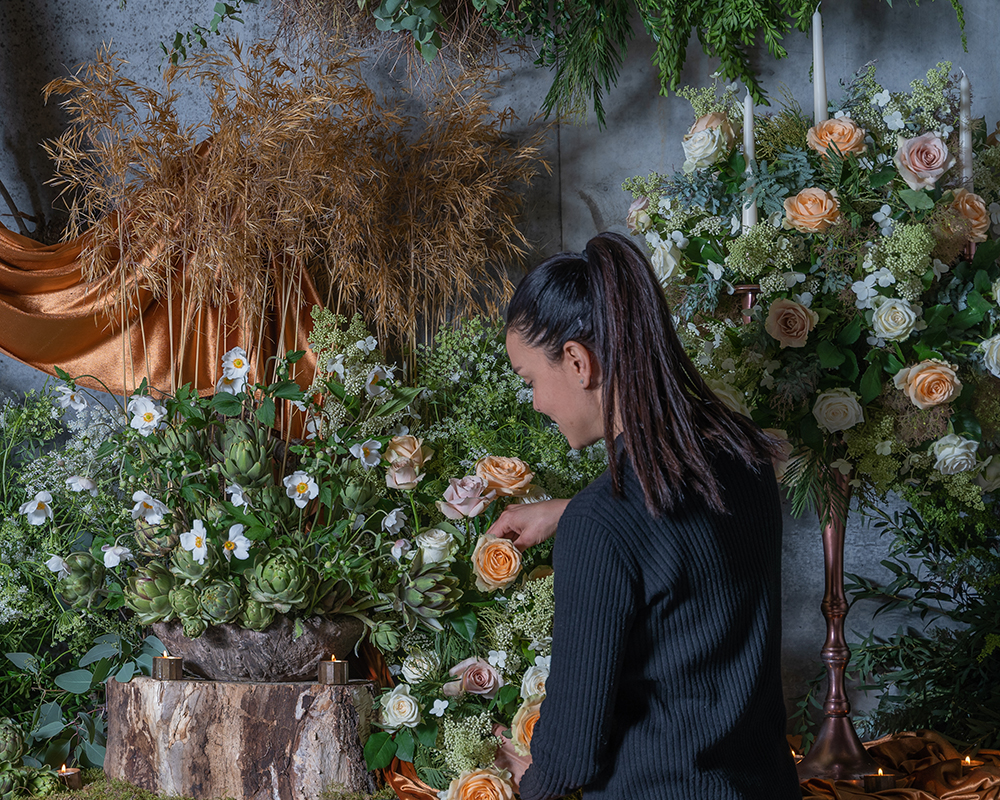 Advanced Floristry | One Week Cost £1,495

Monday-Friday 10am-4pm with one hour break
Do you have a passion for large floral installations? Have you ever wondered how a stunning floral wall or arch is created? Do you perhaps want a career in floristry but aren't sure if it's really for you yet? If so, then this week-long course that's taught at the Battersea Flower School by the masters of floral artistry is what you need. You will be introduced to the world of large-scale designs created for weddings, events and corporations. You will be given detailed introductions to how to construct many different types of designs, such as
Wedding table arrangements,

Foam-free front-facing urns,

Incredible tree designs

Landscapes,

Suspended installations.
You'll be taught all the basics needed in floral artistry and be provided with in-depth knowledge of floral arrangements for a wedding, including how to make mood boards and give accurate quotations. You'll be working with fresh and seasonal flowers throughout the course, and all materials and tools will be provided. Your tutor will provide you with step-by-step instructions for each task and will be on hand to support throughout. These classes involve group work so that you'll be given insight into how the florists at Moyses Stevens all work together to create floral excellence. This class is suitable for all ages and abilities, and you'll leave with a certificate and a new range of skills.
What to expect on Advanced Skills of Floristry
An introduction to working on a bigger scale

How to find your personal style

The mechanics of large installations

Practical projects incorporating some of the key trends

Step by step guidance and support

Next-step advice after completing the course
Who is Advanced Floristry Aimed at
Students with some experience

Students interested in working in corporate, wedding and event design

Students interested in the technical aspects of flower design

Stylists, photographers, interior designers and other creatives who use flowers as part of their work

Moyses Stevens Flower School
Unit 13 Circus Village West | Circus Road West | Battersea Power Station London SW11 8EZ
+44 (0)20 8772 0094
For more information contact our School Director andrea.bassoli@moysesflowers.co.uk

Battersea Power Station
The iconic Grade II* listed building and surrounding area has been triumphantly brought back to life as one of the most exciting and innovative neighbourhoods in the world with a unique blend of restaurants, shops, parks and cultural spaces.
Discover Battersea Power Station
Moyses Stevens Flower School is a 10 minute walk from the new Northern Line extension at Battersea Power Station Tube