Catching up with - Laura and Alfie Kimber
24th Oct 2023
We recently had the pleasure of sitting down with artists, Laura Rose Kimber` and her son Alfie - finding out how their love of art began, what inspires them, and all about their first collaboration.
When did your love of art begin?
Laura - From as young as I can remember. As a child, I was always fascinated by fabric, beads, and colour. I have a fond memory of creating my own toys as a child using paint and wood and immersing myself in pattern and texture. My textile teacher really inspired me at 10 years old to start experimenting with fabric and I have never looked back! Since then I have developed my love for textiles and create embroidered collages drawing inspiration from my experiences and fascination with the flow of life.
Alfie - As soon as I could pick up a pencil I loved to draw from my imagination, portraits and people around me before I could talk….I am hugely passionate about painting and love to work in oils. At 11 years old I exhibited 2 paintings at the Royal Academy summer exhibition, I have sold work at charity auctions, and am enjoying experimenting and developing my love for painting.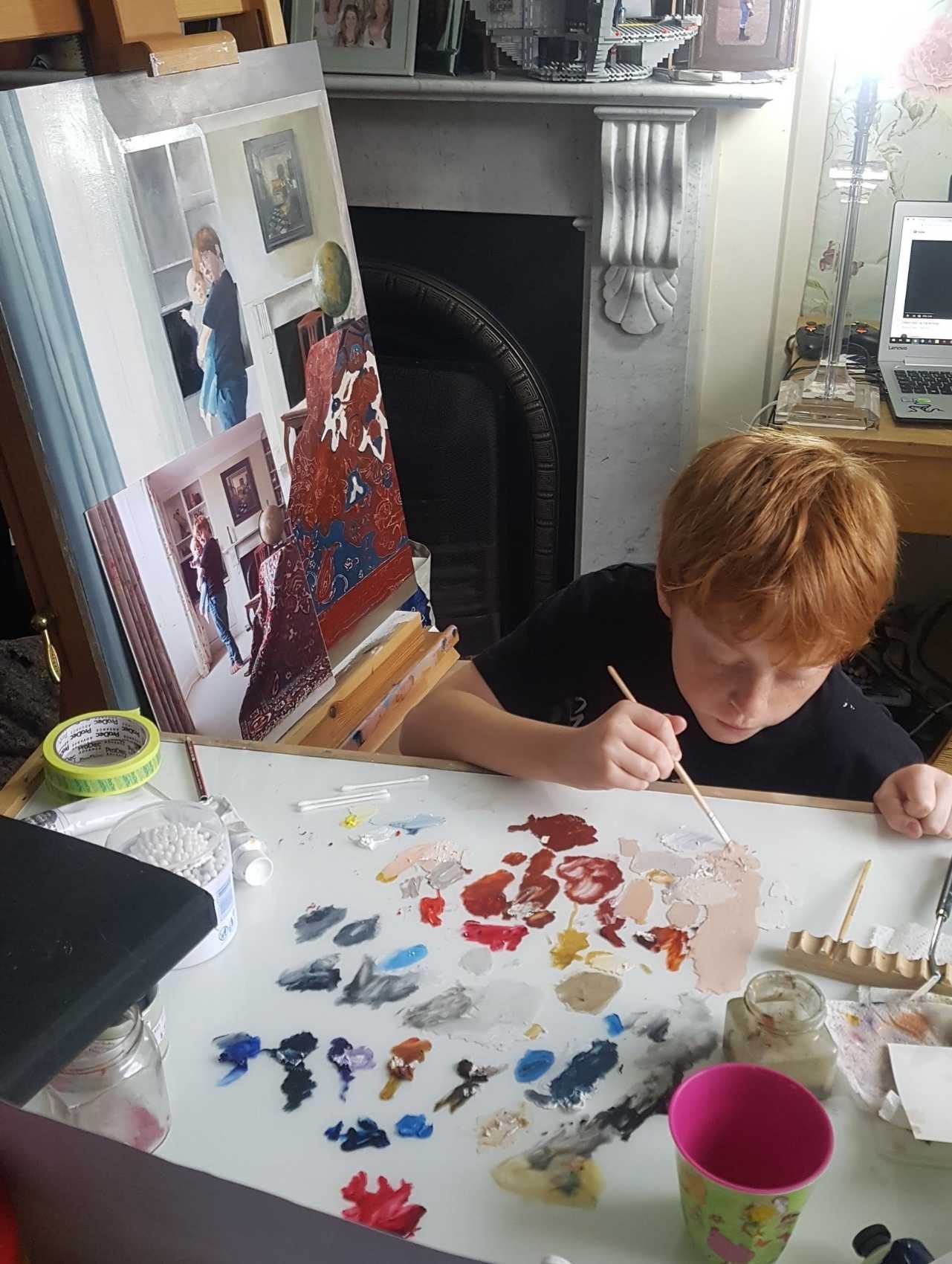 Who or what inspires you?
Laura - For me, Monet's waterlily paintings, Lowry, Simeon Stafford music, colour, fabrics, fashion, Liberty fabric, nature, flowers…
Alfie - in terms of artists - Vermeer, Rembrandt, Francis Bacon, Lucian Freud, Van Gough, and Dutch Master still life paintings also I find inspiration in music, cooking, and architecture.
Tell us about your latest art project?
Both - We were thrilled to be asked to create a large-scale painting for the highly anticipated opening of Cafe La Perouse London. The core palette consisted of red and pink, taking inspiration from their Parisian artwork.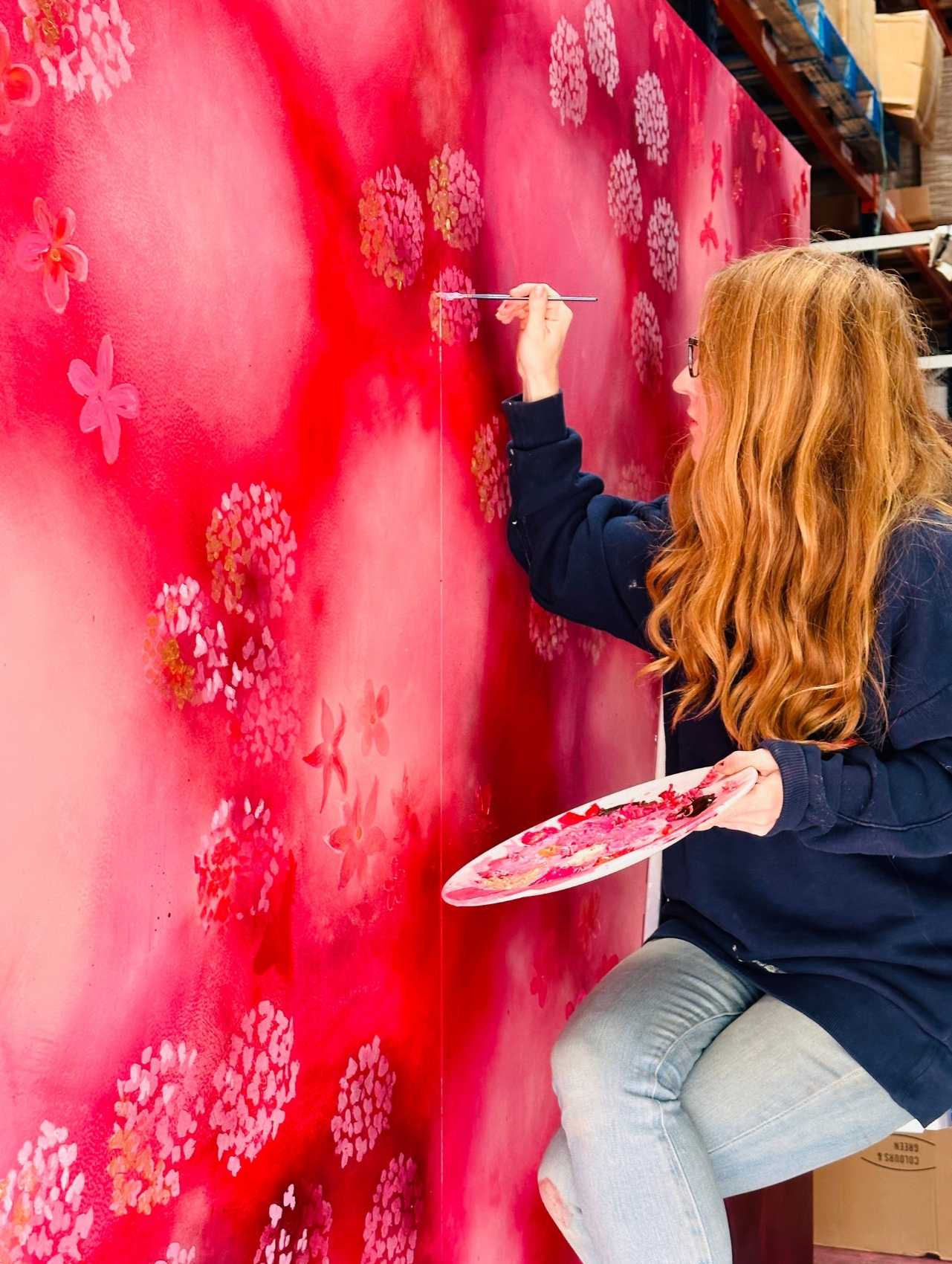 What was your process?
Both - We worked with acrylics using washes of paint, blending colours with paint brushes, spray paints and layering colour. We started working on the background, slowly adding flowers but then using different techniques to integrate the background with the flowers…It was great fun collaborating on this project. Our styles are very different, it was lovely to work collaboratively and feed off each other using our different strengths and ideas.
What was it like to work on a larger scale?
Both - It was great fun and challenging. It inspired us to work at a faster pace than usual which was very liberating and freed up our creativity.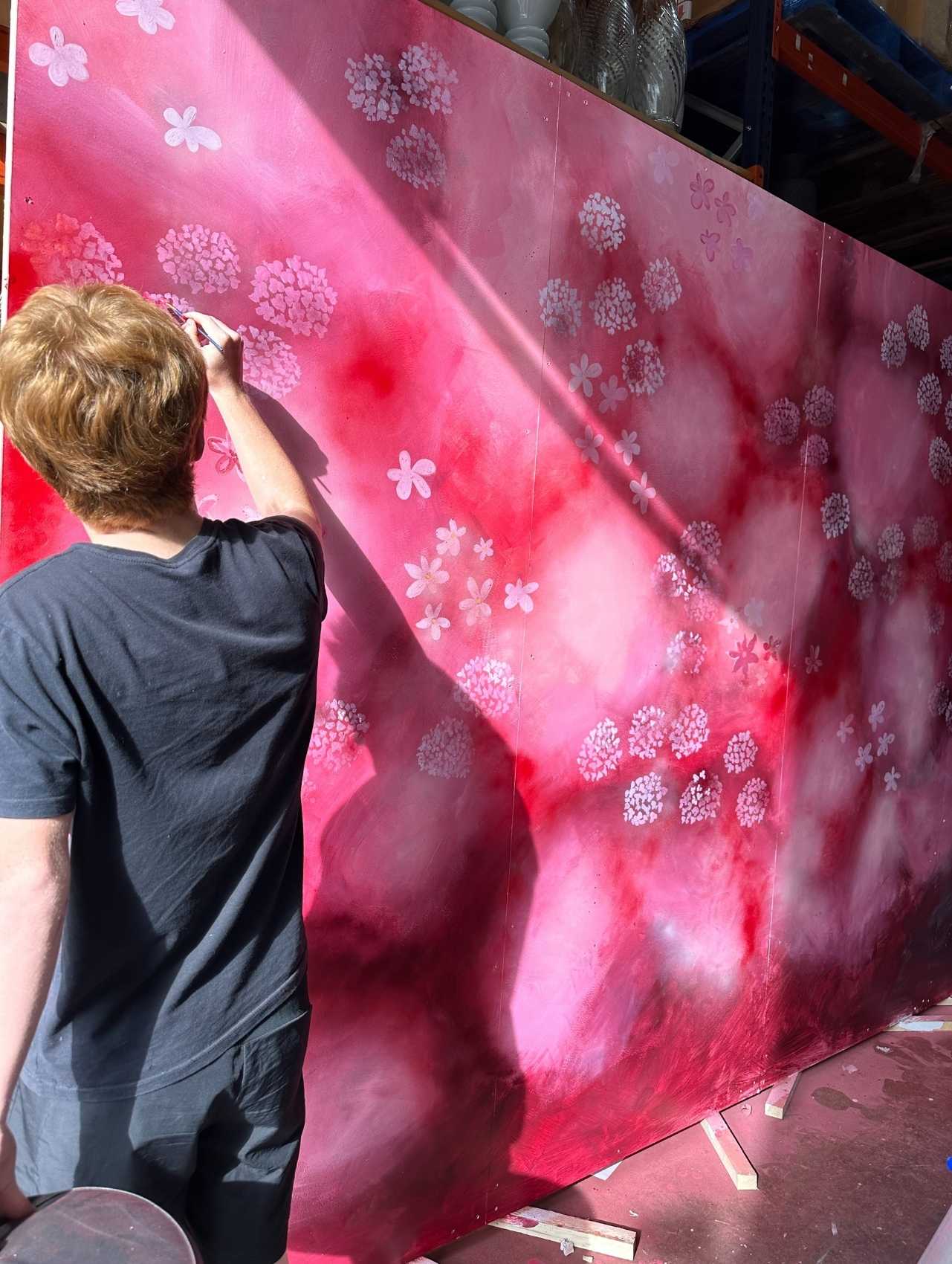 How would you like to develop your style in the future?
Laura - I would love to do another collaboration, and use more paint in my work. I loved working from floral inspiration and would like to explore this. I am also really interested in animating my embroidered collages.

Alfie - I'd like to develop my realistic and refined painting techniques taking inspiration from the Dutch master still life paintings and Vermeer.
To discover more work by Laura and Alfie, follow them on Instagram.