Awesome Christmas Classes: Learn The Art of Christmas Decoration
Posted by Duncan McCabe on 20th Oct 2021
It's approaching THAT time of year again. Gingerbread lattes, woolly hats and way too much Netflix. Although Halloween ghouls and Guy Fawks have yet to make an appearance, we would like to share a reminder of the most festive time of year with details of our classes at Moyses Stevens Flower School focused on the art of Christmas decoration.
Learn How to Make a Christmas Wreath or a festive Table arrangement at our Battersea School and decorate your home in style this year! Or, for a more advanced experience, learn to create a more extravagant room transformation on our one-day Enchanted Forest class.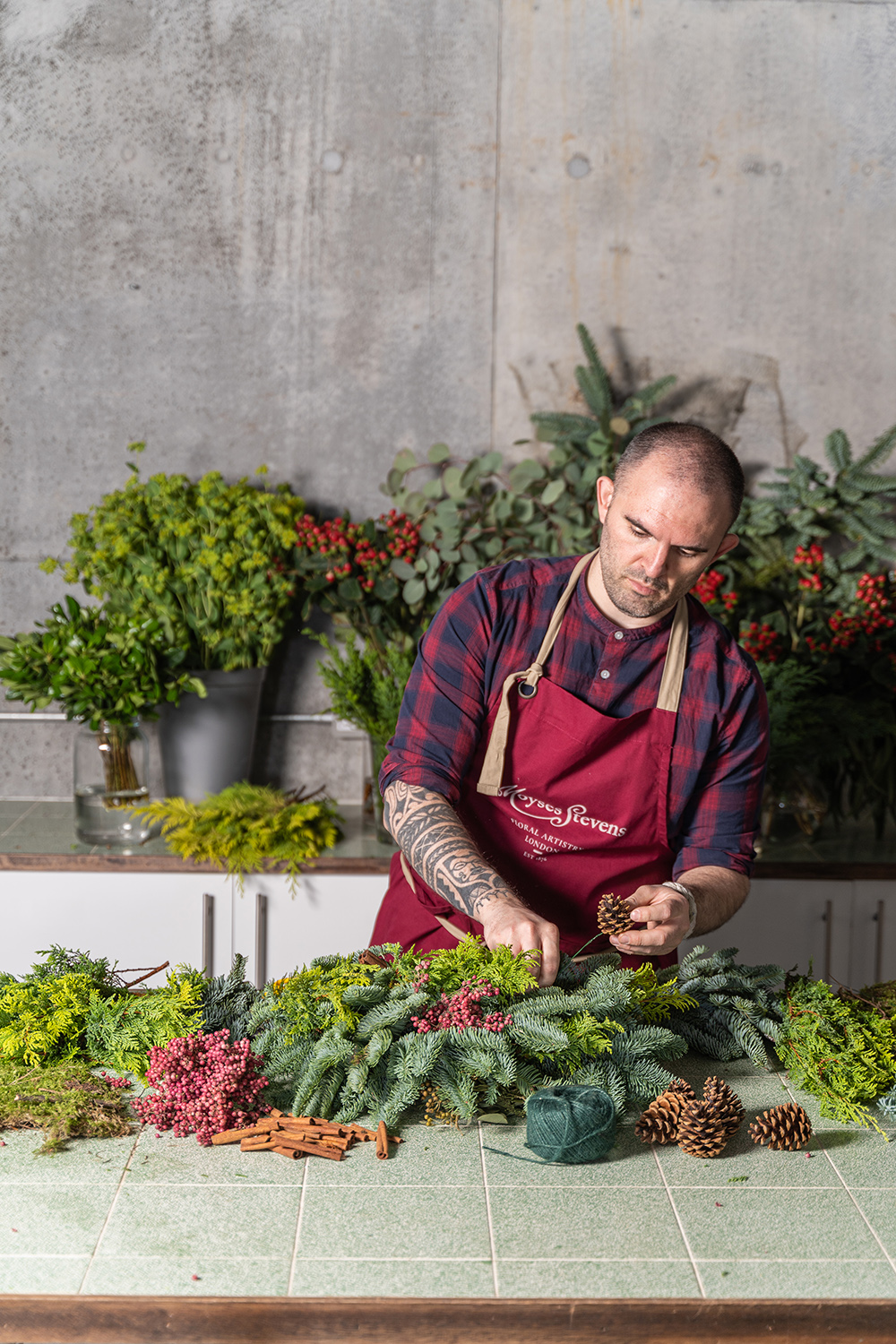 We spoke to head tutor Andrea Bassoli to find out what students could expect
"We are very excited to be hosting a range of Christmas classes this year. We have taken a classic route with the design for this year's Christmas classes with all the fragrant materials loved at this time of year!
With our Christmas Wreath class, students will learn how to create stunning wreaths that you can decorate your home using the time-honoured classic techniques of adding foliages and decorations to a moss frame. There is something very earthy and grounding about working with moss and pine, and it's a class I enjoy teaching.
Our Festive table centre gives students the skills to create a stunning Christmas arrangement, perfect for a stylish Christmas Day celebration. We will demonstrate the step-by-step techniques of arranging flowers with lots of helpful tips on conditioning, buying and how to get the best out of your flowers. The wreath and table classes can be taken individually, or complete our collection of classes and dazzle with a new set of decorating skills this Christmas!
For a full day experience, we are excited to be welcoming students on an exclusive day class with an enchanted forest theme. We will be creating an elaborate table setting and transforming our school into an enchanted forest! The day will be packed with lots of tips for arranging flowers! It will be a very hands-on practical project, and we are looking forward to transforming the school space!
Expect Christmas tunes, a merry good time and a wonderful welcome from our talented school team for this collection of Christmas classes!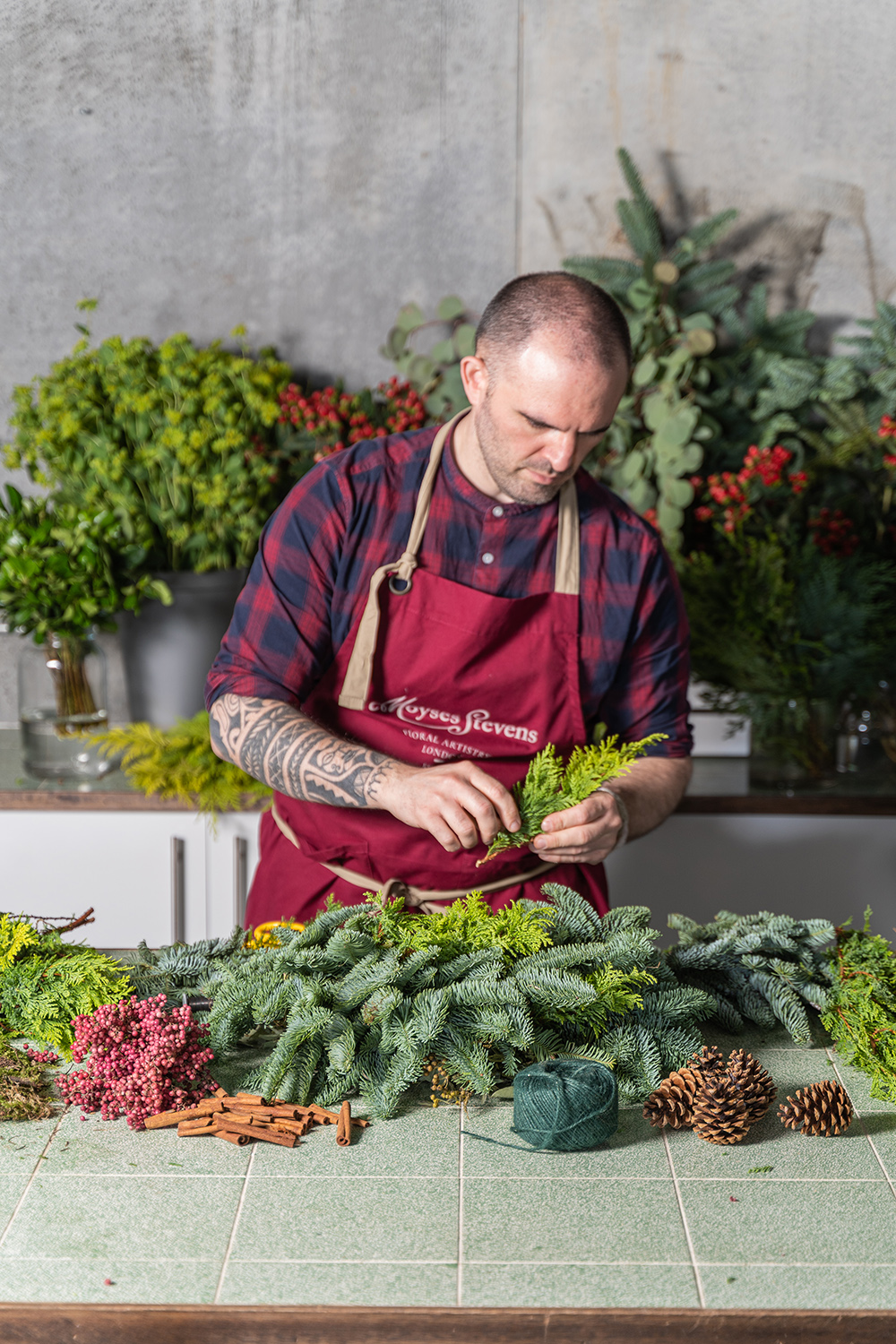 Moyses Flower School: Christmas Decoration Dates.

03 Dec 13.00 -15.00
04 Dec 14.00 -16.00
08 Dec 17.00 -19.00
10 Dec 17.00 -19.00
11 Dec 10.00 -12.00
03 Dec 15.00 -16.30
04 Dec 10.00 -11.30
10 Dec 13.00 -14.30
11 Dec 14.00 -15.30
16 December 10.00 - 16.00

Moyses Stevens Flower School
Unit 13 Circus Village West | Circus Road West | Battersea Power Station London SW11 8EZ
+44 (0)20 8772 0094
For more information contact our School Director andrea.bassoli@moysesflowers.co.uk
Battersea Power Station
The iconic Grade II* listed building and surrounding area has been triumphantly brought back to life as one of the most exciting and innovative neighbourhoods in the world with a unique blend of restaurants, shops, parks and cultural spaces.
Discover Battersea Power Station
Moyses Stevens Flower School is a 10 minute walk from the new Northern Line extension at Battersea Power Station Tube